Post by Enigma on Jan 14, 2014 9:13:44 GMT -5
NEW!!!
Alternate iso of the game with original version/design of Atlantis II available for download!! Go get it now and enjoy the insane design! Made playable by dr_kirk! GIGANTIC thank you to him!
Here is all you need to know before downloading the game :
Jet Moto 2124 Notes :Character Types :Heavy Bikes :
They go really fast, but are affected by gravity MUCH more, and LESS by grapples than the light bikes.
-The Maxx :
-Brainiac :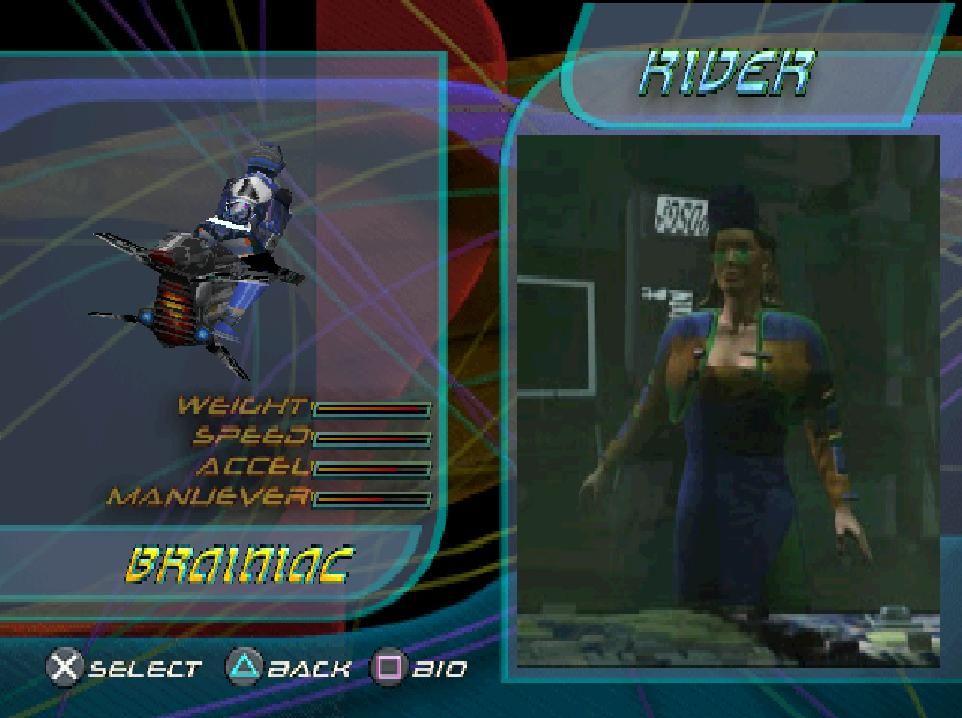 -Mortician :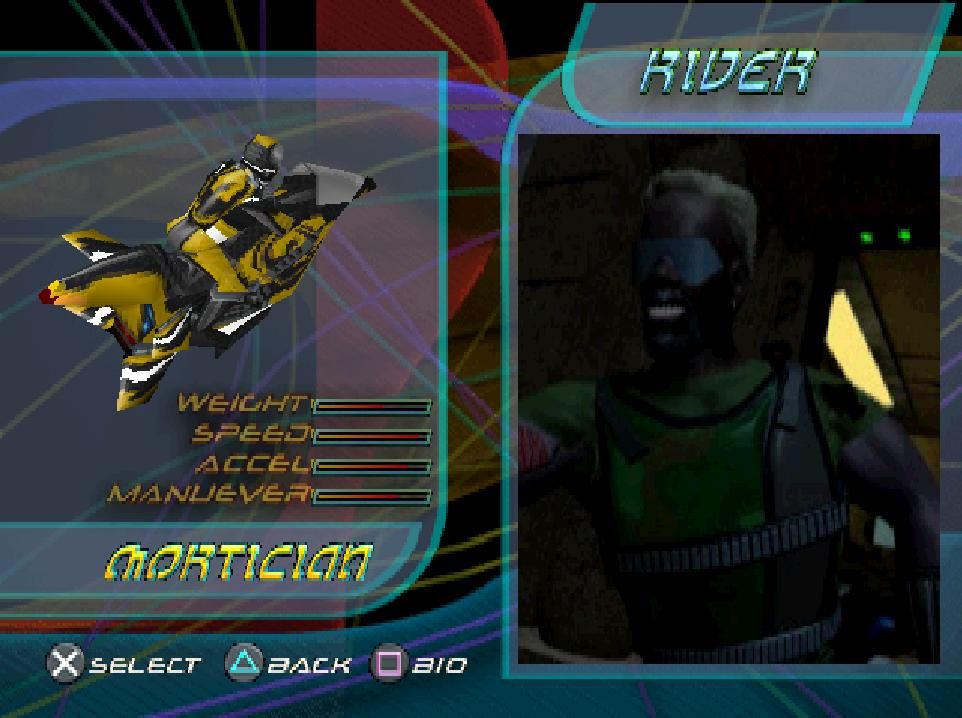 -Bomber :
-C4 :
Light Bikes:
They go slower than the heavy bikes, but are LESS afected by gravity, and MORE by grapples. They can glide in the air very well and can be controled in mid-air by moving the bike in certain directions.
-Hellbound :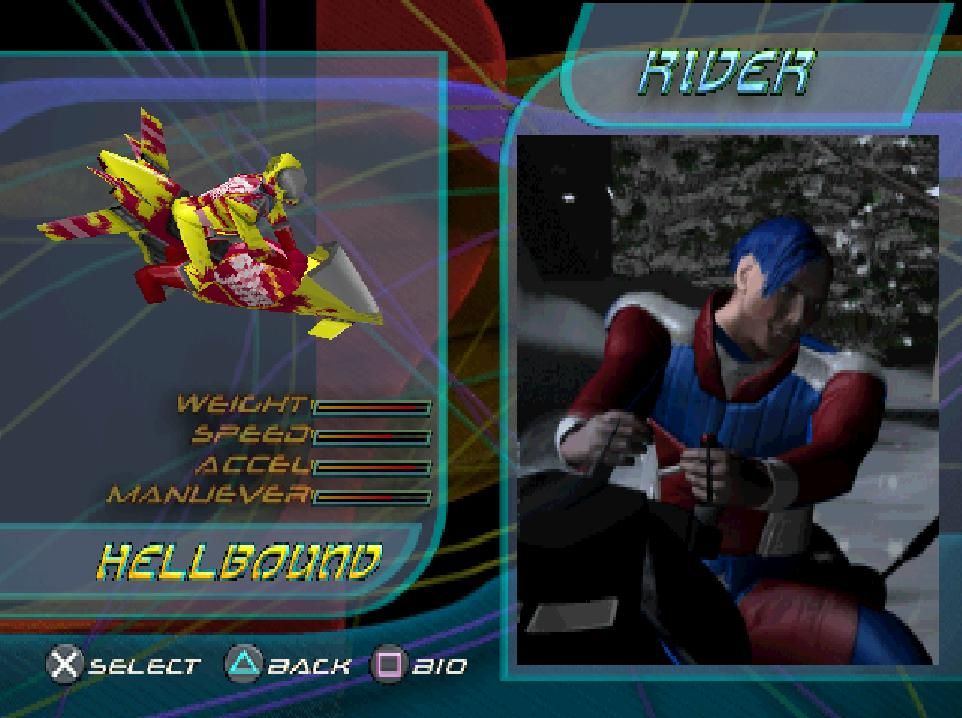 -Dancer :
-Wild Ride :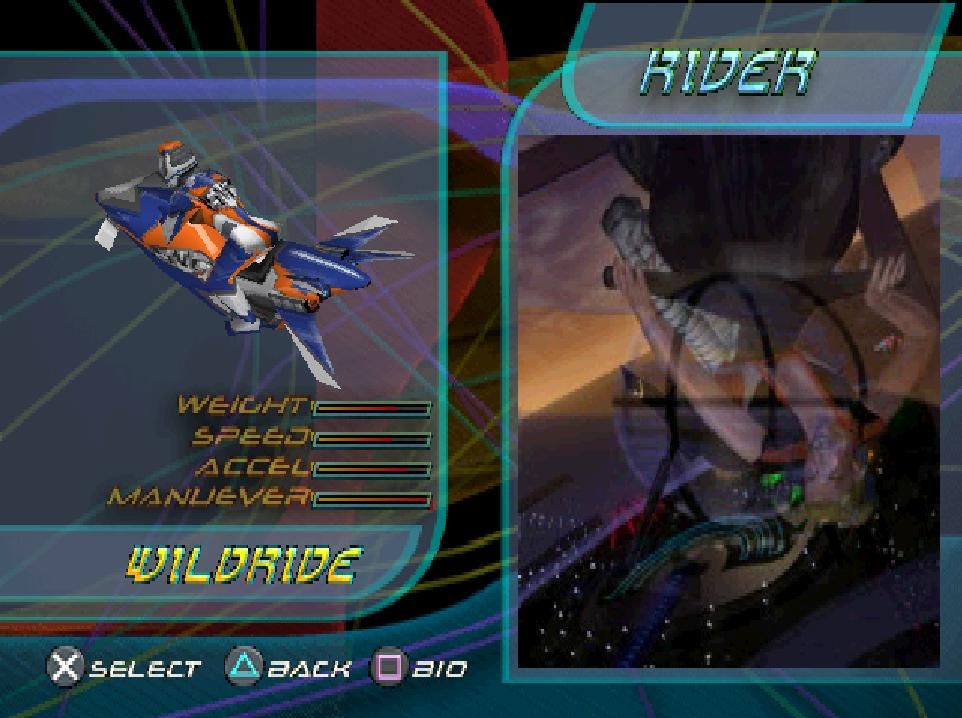 Power-Up List :
-Maximum Acceleration (Blue) : Keeps constant max speed steady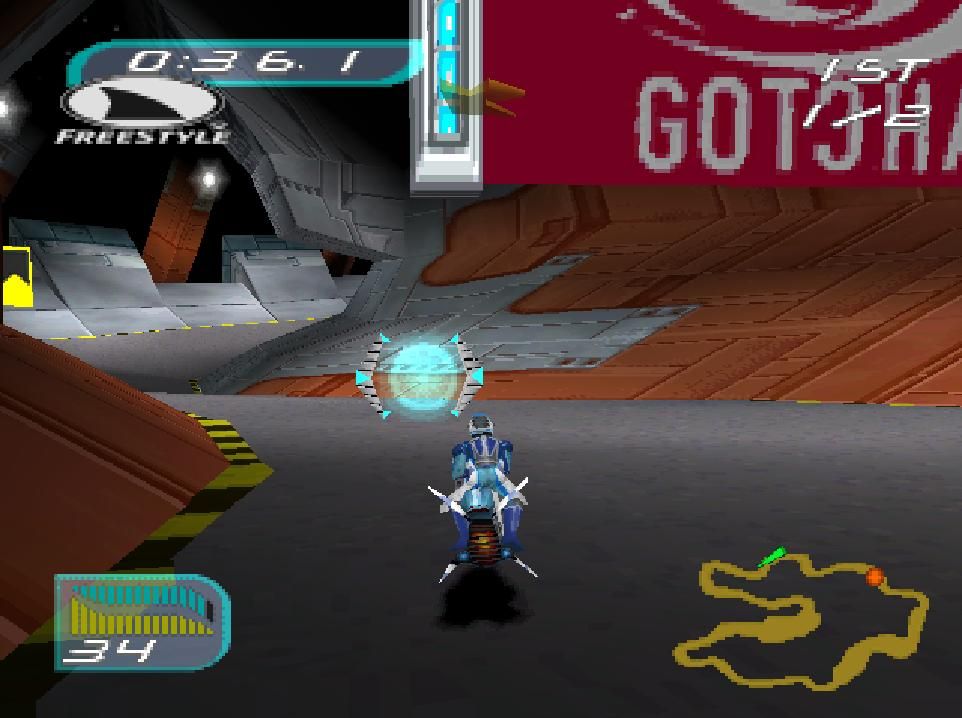 -Maximum Acceleration (Purple) : Replenishes turbo 75%
-Maximum Velocity (Pink) : Increases max speed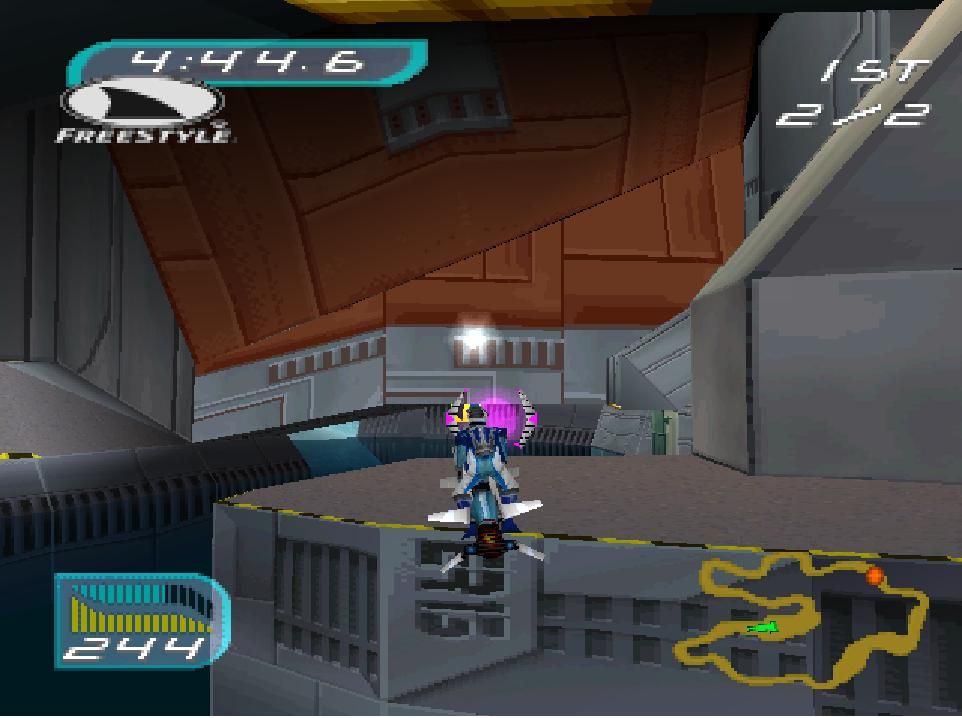 -Hyperspeed (Green) : Temporary burst of maximum speed (255mph)
-Grapple (Red) : Replenishes grapple bar to full
Trick List :
Hard turn Left
/
Hard Turn Right : L1 + Left
/
R1 + Right
Power Slide Left
/
Power Slide Right: L1 + Left + Down
/
R1 + Right + Down (I did not succeeded in performing that one, may not be working)
Vertical Boost (hop) : L2 + R2 (not that effective with heavy bikes)
Heel Clicker : Up + Up + L1
No Hander Spin Left
/
No Hander Spin Right : R2R1 + L1
/
L2L1 + R1
Double Can Can Roll Left
/
Double Can Can Roll Right : R2R1 + L2
/
L2L1 + R2
Barrel Roll Right
/
Barrel Roll Left : L2 + R2
/
R2 + L2
Right Spin
/
Left Spin : L1 + R1
/
R1 + L1
Front Flip
/
Back Flip : Down + Up
/
Up + Down
Known bugs and glitches :
-Must quit to start menu after Race Over or game will lock up
-Hellbound will lock game for ~9 minutes if not chosen very quickly upon selection
-A Light Bike is preferred in Mercury since two parts of the tracks are very hard
-Atlantis does NOT work via Time Trial mode
-Season mode works but since races cant be finished, is useless
-AI only races correctly on Canyon and Mars levels, but are very basic programmed, there is no challenge at all, and the rest are incomplete
-2nd player may experience pop-out from textures and background on 2P Mode*
-Many unfinished walls and some finicky checkpoints, mainly on Europa, Moon, and Phobos
-Waterfall checkpoint on Europa is floating ahead of where it should be and you will need to go fast to reach it and count lap
-In stunt mode, you may experience some texture pop-out even in single player*
-When the time from stunt mode is up, the game will freeze
*It only happens on an emulator, there are no such glitches on a real console.
Credits to mcniggleston for the pictures and the text and me for completing some of them.
_________________________________________________________________________________________________
Now, the downloads :
NEW!!!
Rom with the original Atlantis II version/design :
.BIN/.CUE File
Original rom :
.BIN/.CUE File
.ISO File
.CCD/.IMG/.SUB File
.MDF/.MDS File
PLEASE, DO NOT PUBLISH THE LINKS ANYWHERE ELSE, SHARE A LINK TO THIS THREAD OR TO 2124'S FACEBOOK PAGE!